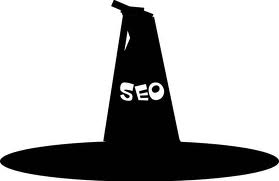 No and Yes. That is order for the answers to the above two questions. Unfortunately (or fortunately) black hat SEO techniques do work and help enhance the ranking of your website, but the bad news is Google will soon catch up with you. And that may signal the very end of your website – SEO and all.
What is Black Hat SEO?
Black hat SEO techniques refer to SEO strategies that are frowned upon by Google for use in increasing website ranking. Black hat SEO techniques lure a visitor to a website under false pretences. So what the visitor finds on the website is totally different from what he expected to find. And Google gets agitated because user blames Google for inefficiency (after all, the searcher using Google may not even be aware of the concept of SEO). Google therefore disallows certain SEO techniques and may penalize you for using them.
The Temptation to Use Black Hat SEO is High
This is because the black hat techniques are really effective and ensure a high ranking for your website, resulting in greater traffic. Moreover, black hat SEO delivers the results rapidly as compared to white hat SEO strategies that are expensive and take time. Besides of course, there is the thrill of doing something that is forbidden. And most webmasters stick to it to experience the high that comes with outsmarting Google (albeit temporarily).
Popular Black Hat SEO
You stuff the text with keywords to attract Google's bots to such an extent that content seems absurd.
The actual page is cloaked and a different more search engine friendly page is revealed to the search engine. This is an effective way to increase traffic to an unpopular webpage
These are super optimized pages which are ranked high by search engines, but when the user clicks on them (surprise, surprise), he is directed to a completely different page that sells something or is an ad website. The advantage is that by simply creating a single keyword optimized page, you can increase the traffic to your 'real' website. So there is no hard work in planning an SEO strategy for your website.
This is a sneaky technique where the actual links are hidden (very small size font, same color as the background) and accidentally clicking on them leads to the real website. It obviates the need for working keywords into the content and reduces SEO efforts by that much, while pulling visitors to the website.
These are just some of the techniques. Black hat SEO techniques are numerous, limited only by your creativity in discovering more.
Is Black Hat SEO worth the Effort?
The honest answer to that question would be no. It is necessary to remember that increasing the website ranking is not the end, but only a means to the end. The aim is not to increase the visitors to the site, but increase the sales by increasing the number of visitors. With black hat SEO, that is hardly likely to happen. Because the visitor sees something completely different from what he was looking for, his first reaction would be to get off your site. Very rarely would someone stick around and make a purchase or fill a form or whatever it is that you want them to do.
And the chances are very high that you may be penalized by Google, with nothing significant to show for it.
And if it is the 'high' that you are looking for, I would recommend bungee jumping. That gives a greater adrenaline rush. As for SEO, stick to white hat techniques.