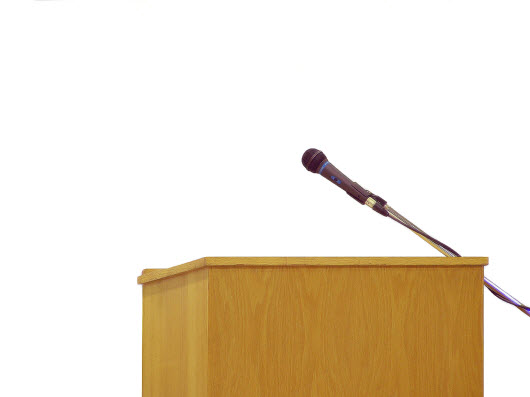 Getting a speaking job or speaking engagement may not sound like your idea of fun. However, ultimately, if you do so, you'll find that traditional media pays more attention to, others start to link back to your company website and you are ultimately able to make money and build your business that much further. However, you may also be wondering how one goes about getting speaking engagements to begin with. Here's what you need to know:
Do You Know How to Speak?
If you don't know how to speak before an audience, I suggest that you consider taking some courses in public speaking to learn how it's done. Hint: if you think that you can write your speech and stand in front of the audience reading it at high speed without ever looking up, you desperately need a speaking class.
Getting Started: Pick Your Niche
The first step when deciding to do this is to pick your niche. I'll assume that your goal is to promote your business and so your niche should be one which lends itself to your business. Of course, not everyone will be able to do this. I mean I don't know many plumbers for example who get speaking engagements. However, if your business lends itself to this, then you should definitely look into it.
Offer to Work for Free
Community centers, Rotary clubs and other similar organizations are always looking for people to address their people and they often have very little money to spend. This means that you are much more likely to land a speaking engagement with a place like this than with a place that will pay you do it. The nice thing about this however is that it first of all increases your primary business and secondly leads to your getting hired by a place which does pay you (people in the audience may contact you to hire you for a paid gig).
Network
Go to various events and talk to people. Offer to speak if you can and you may well get a paid job out of the deal. And even if you don't, the nextworking will be likely to help you to find a speaking job elsewhere since people will remember who you are.
Check Directories
There are several directories for public speakers and if you want to find a speaking job, you can put yourself down on the list. Two such places are speakerservices.com and speakerzone.com.
Cold Call and Check Google
Make phone calls and check on Google for places where you can get speaking jobs. Sure you'll get turned down a lot, but that's part of building yourself up as a public speaker.
Tell Your Audience
Finally, when you do get speaking jobs, be sure to tell your audience that you are available for additional speaking jobs if they know of an organization that's interested in having you speak. This doesn't have to sound desperate. Make it clear how passionate you are about your subject and mention that if anyone is interested in having you speak at their organization, they should speak to you later, after the speech or simply be in touch.