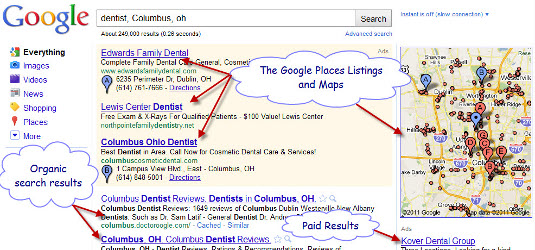 Ever since Google introduced their new local search feature, Google Places, which is designed to help businesses reach out to local customers, there has been a race to the top in much the same way that people are always trying to land in the top spots on the SERPs for various keywords. Fortunately, getting there is much like getting to the top of the SERPs.
What is Google Places?
Before we get into the nitty gritty of how to rank well in Google places, let's start with what it is. If you were to search for say "Dentist, Columbus, OH" you would be presented with a number of different features on the page.
Right at the top of the page, with a map alongside it on the right would be the Google Places listing, showing local businesses which are appropriate for your search. Below the map are the paid adwords ads and below the Google Places listing are the standard organic search results.
Bottom line, getting a high rank in Google Places gets you to the top of the page. Now for how to do it.
Set Up Your Business Page
The first thing you need to do of course is to set up your profile on Google Places. Google doesn't pull this information from the phone book. Instead, the information is culled from directory listings that people fill out on the Google Places website. It's free and you just need a Google account to do it.
Be Sure to Completely Fill Out the Form
While you can be listed with a minimal amount of information, those wishing to grab the top spots, especially in competitive markets would do well to fill out all the details. You'll see a completion bar which shows how much of the form is actually done. Getting to 100% is the goal here.
Put in Photos
Just like with traditional SEO, having plenty of photos with thoughtful tags will help tremendously in getting a high rank in Google places. You can do pictures of the staff, your building, customers (if they sign a model release), products you have for sale, whatever you can think of.
Get Reviews
Just like getting backlinks is considered a vote for your website, getting reviews is considered a vote for you in Google Places. The more positive reviews you can land, the more likely you are to do well and rank highly in Google places. Be sure to ask your customers to drop by Google Places for a moment and take care of putting in a review.
Get a Website
This one is a bit controversial. Some SEO specialists say you don't need a website to rank well in Google Places, however I for one am of the opinion that a well executed website can only be an asset. If you can build backlinks to the website and do plenty of traditional SEO for it, so much the better.
Local Address and Phone Number
If you do have a website, make sure it has your local address and phone number listed as well. This is especially important for those who want to rank high in Google Places but who run a franchise. The franchise will often list corporate headquarters and as such, you need to differentiate yourself with your own website and local information.