In today's world, WordPress is one of the most popular platforms available for users to publish content on the internet. Using WordPress for your blogs is a great idea to increase traffic.
But the question always arises: 'are you using your WordPress site optimally'.
The platform offers a plethora of really simple tweaks that can greatly enhance the profitability of your WordPress website.
By following certain simple tips, you can make your WordPress website more SEO friendly, so that search engines readily find your website so that once visitors arrive, they are engaged in a better manner and can easily complete the desired action (buying something, signing up for membership, downloading e-book etc) that you want them to perform.
Let us look at these tips:
Choose the Right Theme
The theme determines the overall look of the blog. Make sure that it is pleasing to the human eye. Some designs, particularly the font and color combinations repulse the senses and tend to drive people away from the website. Also make sure that the theme is in line with your content. For instance, if you are writing about Christmas, make sure you have a relevant theme like the one shown below:

The best part is, there are tons of themes available and you can install them easily even if you have minimal understanding of WordPress. To get free themes, just Google "free wordpress themes" or go here.
Make Sure the Theme Supports the Purpose of Your Website
If you intend to use the blog commercially and earn revenue from Google AdSense and other such platforms, make sure that the theme you choose provides adequate ad space. Another example, if your website is an ecommerce site you should choose a theme that is developed specifically for e-commerce websites.
For instance, this 'clothes shop e-commerce' theme is ideal for you if you intend to start a small e-commerce business.
Choose themes that optimize the Landing Page
Keep the landing page free from clutter including unnecessary links, so that the focus of the visitor is completely on the action you want him to perform like 'to buy', 'to subscribe', etc. Many premium WordPress themes (like Prose from Studio Press) have a landing page template built in that incorporates these features. You can also customize the landing page for better results.
Create Customized Themes
You can customize the themes to make the blog more relevant to your content and thus more appealing to visitors. For instance, if the original theme header has an image, you can change that to display your photograph (with a nice smile, please). Or you can convert it into a branding opportunity by displaying your corporate logo or brand logo.
Optimize your Blog for SEO by Modifying Permalinks Structuring
The default permalink structuring in WordPress mentions the 'post id' in the permalink. This is a numerical that makes no sense to search engines. Modify the 'Permalink Settings' to 'post name'. So your permalink will contain the post name, which is obviously keyword optimized and will bring greater traffic to the blog.
Here is an example of what this might look like:
Choose SEO Friendly Plugins
SEO Rank Reporter, All in One SEO pack and Google XML Sitemaps are some of most popular WordPress plugins that support SEO. For instance, the Google XML Sitemaps supports and all major search engines and notifies the search engines whenever you add a new post. The All in One SEO makes your website more search engine friendly by automatically creating meta tags and suitably optimizing web page titles.
Reduce Spam in the Comments Section
Use the Akismet plugin spam protection in comments section of your blog. As you can see in the screenshot below, our Akismet plugin has deleted thousands of spammy comments on our blog, which would be a nightmare of a task if we had to do it ourselves:

Use WordPress Database Backup Plugin
This plugin creates automatic back up of your WordPress data and sends it to a preferred email id. The plugin can put you at ease, knowing that your data is accessible in case of any untoward occurrences. Don't underestimate the power of this plugin. You can never know when your database gets "accidentally" deleted. Make sure you install this plugin if you have a decent number of posts on your blog.
Use WordPress resources to Connect with your Readers/Visitors
The 'Subscribe to Comments' plugin enables you to develop a relationship with your readers by notifying them via email when new comments are added. This keeps the interest in your website alive.
Use Caching Plugins to Enhance User Experience
Caching is an extremely effective way to enable faster loading of your web pages and thus enhance user experience. Caching essentially creates a static copy of the web page content that is delivered to the user, rather than re-querying the database and generating the webpage dynamically, which would take time. WP Super Cache, WP Simple Cache and Hyper Cache are some of the popular WordPress caching plugins that you can use. W3 Total Cache plugin is used by popular WordPress sites like Smashing Magazine and Mashable.
This picture represents the effectiveness of the plugin. Best of all, it is free!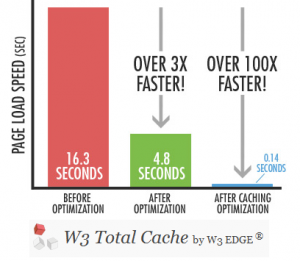 Use CDN Network for high Traffic blogs
If your website already attracts loads of visitors, good for you. But you need to be sure that the server is able to handle the load and does not crash. Nothing can negatively impact user experience than an 'unavailable' website.
Using a CDN network that delivers content via a series of servers across the world solves this problem.
Use Pingback Facility to Generate More Exposure and in-bound links
Pingback lets you notify another author when you have linked to his/her article on your post. Chances are he/she will return the favor, giving you greater exposure as you earn in-bound links.
Display Post Excerpts
In case the post is lengthy and has a lot of images, you must display post excerpts. This helps in loading the page faster. It also encourages viewers to comment as the comment section is on this page.
You can customize the excerpt or WordPress will automatically generate excerpt based on the first few lines of your post.
Here is an example of what this looks like: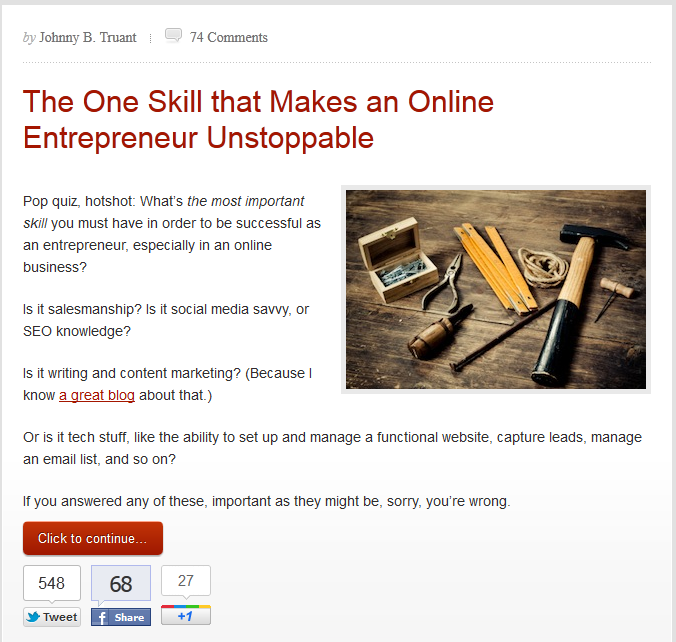 Create Thumbnails for Each Post
To take the above mentioned point to another level, create a thumbnail image next to each post to generate greater interest in the post. This is very simple to do and is well-worth the time invested into it.
Add Author Bio at the end of the Post
Doing this is particularly important in multi-author blogs like news sites.
Author Bio Box enabling easy contact with visitor via various channels and also enables reader to develop a closer relationship with the author and of course promotes the author too: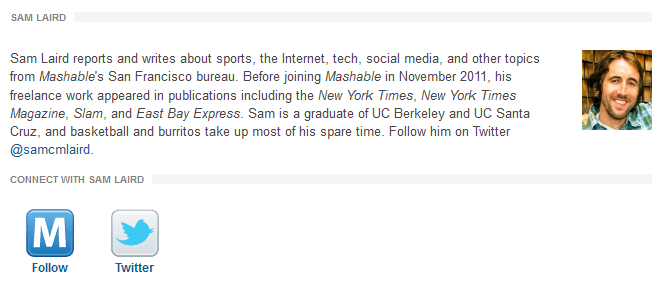 Open Links in New Window by Default
The title is pretty self explanatory. It is an extremely user-friendly feature, and I am sure you have experienced this personally. When you create a link, just tweak link settings and make sure the "Opens in new window" option is selected. This prevents the visitors from permanently browsing away from your blog and can dramatically decrease bounce rate.
Use relevant images in your post
Pictures speak a thousand words. Depending on the nature of your blog, you can use images to create intense emotions or lighten the atmosphere with humorous images. Blogs like Quick Sprout and Copy blogger use this tactic extremely well.
Keep the Overall Look Uncluttered
Too often, blog owners want to have everything on their sites. As a result, there is a plethora of plugins. The sidebar is overcrowded with social media icons, RSS feed buttons, links to your posts and a hundred other things. Eventually, the action you want the visitor to take is lost somewhere in the midst of all this. Please make sure you remove unwanted elements from your blog.
Pay Attention to Social Networking Plugins
With the significance of social marketing on the rise, this cannot be ignored. The 'sociable' plugin automatically links your preferred social networking site on all new posts and in your RSS feeds. Another option that we personally use is the GetSocial WP Plugin.
Also, make sure you tell the users to share your posts as people are more likely to do something when they are requested to do so, rather than just hoping that they will!
Use Contact Forms
Use contact forms so that your visitors can contact you. The WP contact form can be incorporated in your post or on a page.
These are some tips for optimizing your WordPress blogs. I am sure you have used some of them. However, you might have some crazy tips of your own!
Why don't you share your tips with us through your comments? Or let us know what we missed out on!
Also, if you like this post, please do share it. We will really appreciate it!