One of the biggest issues that small business owners face with their business pages is that some Yelp reviews do not show up.
Here's a typical scenario: a customer writes a great review but then Yelp doesn't recognize it. In fact, Yelp places it in a section at the bottom of the Yelp page called "other reviews that are not currently recommended".
Yelp is not doing this because they want you to pay advertising fees. They're doing it to protect the interest of their users.
You see, Yelp uses an algorithm to filter out reviews that it has determined to be inadequate in some way. There are several reasons that Yelp may consider a review to be inadequate:
The Yelper used inappropriate language.
The Yelper's profile is incomplete; e.g., missing a profile picture, bio, or contact and verification information.
Yelp has determined that the review is biased. Something in the algorithm has triggered a red flag that tells Yelp that the Yelper is a competitor, disgruntled employee, family member, or friend.
The Yelper has very few or zero previous reviews.
If you look at the reviews that are stuck in the black hole, you'll likely notice a couple of things in common:
Each of these people have left zero to two reviews previous to writing a review for you. Although I bet you really appreciate their thoughtful, five-star review, Yelp doesn't care. They see it as a red flag. Yelp is concerned that this person signed up just to write you a review, perhaps because you paid them. Yelp can't prove this, so it's only course of action is to not display the review.
Most of the Yelpers don't have a profile picture. And if you dig a bit deeper and actually click through to their individual profile pages, you'll notice that they have very little information filled out.
It's almost as if they created a Yelp profile just to write a review for you business. Actually, they probably did. Again, while you might appreciate it, it's not good enough for Yelp. Yelp wants engaged, active users.
How to unlock hidden reviews on Yelp
Unlocking hidden reviews on Yelp requires a basic understanding of Yelp's algorithm. You will need to reach out to your previous reviewers and let them know that they need increase their engagement and fill out the rest of the profile information in order for their wonderful review to get unstuck from the hidden area.
Yelp wants to see several things from a Yelp user before it publishes their review and it has a lot to do with engagement.
Fill in your profile completely. A complete profile including a clear profile picture, full bio with links to your website, your likes and dislikes, and your location.
Make some friends on Yelp. You can sync your Facebook profile to identify any of your Facebook friends that might also be on Yelp.
Check-in to some of your favorite businesses. Download the app and click "Check-in" next time your there. It takes less than 5 seconds.
Upload a photo or two of your most recent dining experience. Take a picture of the food or the exterior or interior of the business.
Comment on other Yelper's reviews. Did you see something you liked? A funny review or one that particularly insightful or well-written? Let them know.
Write some reviews. This is by far the largest factor. A Yelper needs reviews in order to seem credible and unbiased. Yelp wants to know that they user didn't sign up just to write one glowing review or one very negative review. And this understandable. This is how Yelp is able to effectively manage the millions of reviews it receives each day.
Message your reviewers that are stuck in this black hole with the helpful information above. Let them know how much you appreciate their wonderful review and that you'd love for it appear in the regular section, but in order to do that, they will need to increase their engagement a bit on Yelp and fill out their profile.
How to rank higher on Yelp
Yelp can be a major source of phone calls and page view traffic and consequently revenue for your business. But in order to start increasing that traffic, you need to rank highly on Yelp. Yelp has about 150 million unique monthly visitors. That's a lot of people looking for businesses to shop at. Cleary you should be on Yelp. But just "claiming your business" is not enough.
Your Yelp page needs to be optimized so you attract the right customers. Let's look at some of the things that you can control on your free Yelp page.
Business name. It should be your "Doing Business As" business name–not your legal name.
Business categories. You're allowed three. Chose those that best fit your business.
Profile picture. Chose a picture that looks great as a thumbnail. Most likely, this will be your logo.
Business Photos. Add photos of your most popular dishes and a great shot of the exterior of your business. Surprisingly, this is what customers find most helpful. Often, they're looking for business while driving or walking down the street and need help knowing what it looks like. A clear, front on shot of your facade will quickly become one of your most helpful images. Also consider photographing your staff and including them in your photo gallery.
Business information. Fill out your profile information with some well-written and helpful content about your business, when you founded it, and who founded it. Be sure to include your SEO keywords in this section because it will help Yelp determine how to rank you when customers are searching for those keywords on Yelp. SEO hint: Google also pulls from this content!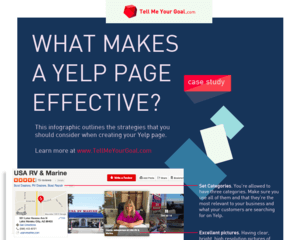 Business Yelp pages consistently rank on the first page of Google often in the first position. If you're Yelp page is optimized using the above strategies, you'll likely see your business's Yelp page on the first page of Google It's one of the excellent benefits of optimizing your Yelp page.