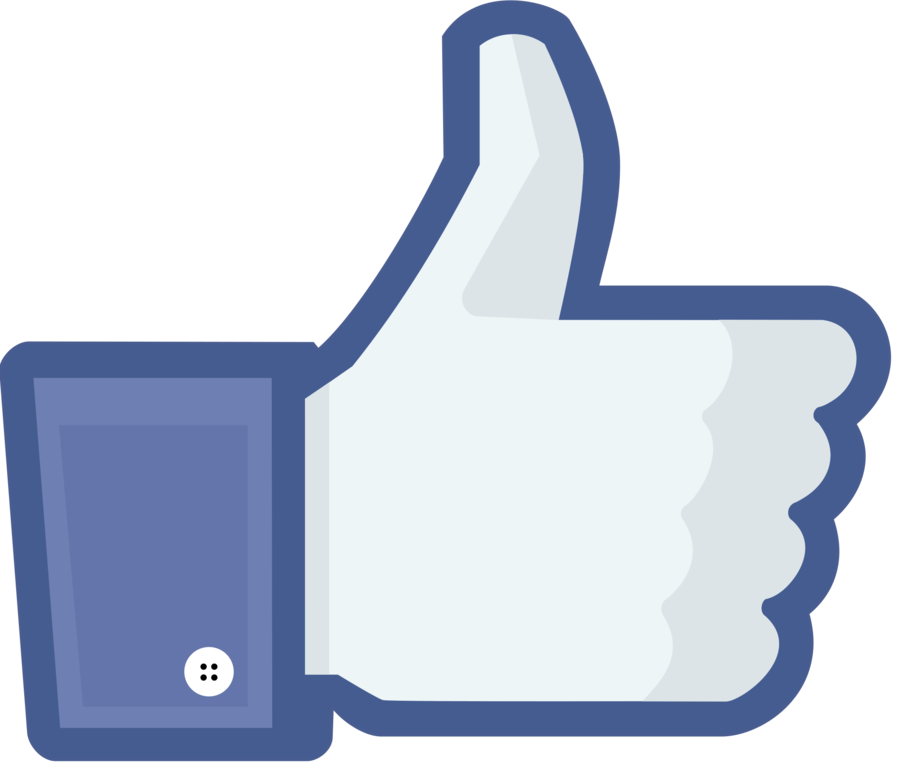 In working on this article, I keep thinking of the famous line from The Godfather about how it's nothing personal and it's just business; plus, there's old line about how you have to "go to the mattresses." Well in this case, while you are trying to grab customers from the competition, you're not actually doing anything illegal or even unethical. Instead, this is really just doing business online in 2014.
The best part by the way is that even if you manage to grab your competition's social media followers, that doesn't necessarily mean that they'll lose them, meaning that potentially you both win by having great customers.
I've divided this guide into a 10 step process to make it easier to do this. You can however skip around if you prefer. It's not like it has to be done in order (well, except for the first step, which does in fact need to be done first).
1.     Figure Out Who the Competition Is
Before you can even think about trying to attract the competition's social media followers, there's a very basic thing that you need to do – find out who your competition actually is. Now I know you probably have a vague idea of some of the big guys in your business but it's also worth spending some time to do research and find out if there's anyone else that you're not familiar with.
Start by doing a search for your primary keywords on Google and noting the top businesses in the industry. Of course, this is just the first step. Once you've found the companies in question, you then need to do a little checking to see what their positions are on the various social networks including Google +, Facebook and Twitter.
You will need to cross reference the various websites with their social media profiles. So for example, if I were to do a search on Google for "buy dog food," I'd get the following results (well, yours may differ slightly as Google tends to personalize results depending on where you are and what your previous searches have been):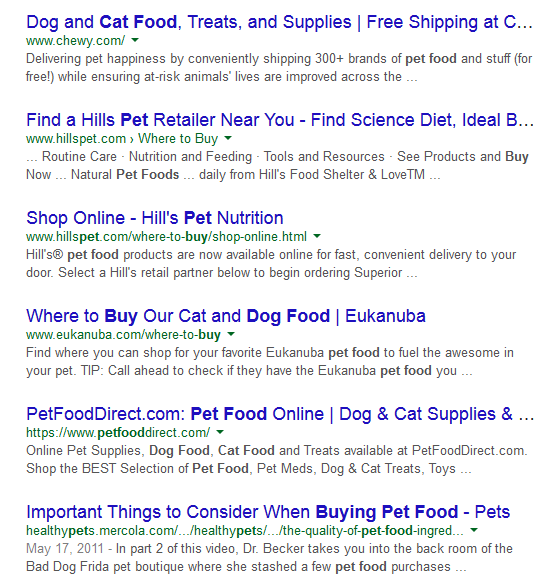 Now, I'd take these results and start searching out their social media presence. For example, Chewy.com, the very first suggestion on my list has an extremely active Facebook presence with 247,000+ followers: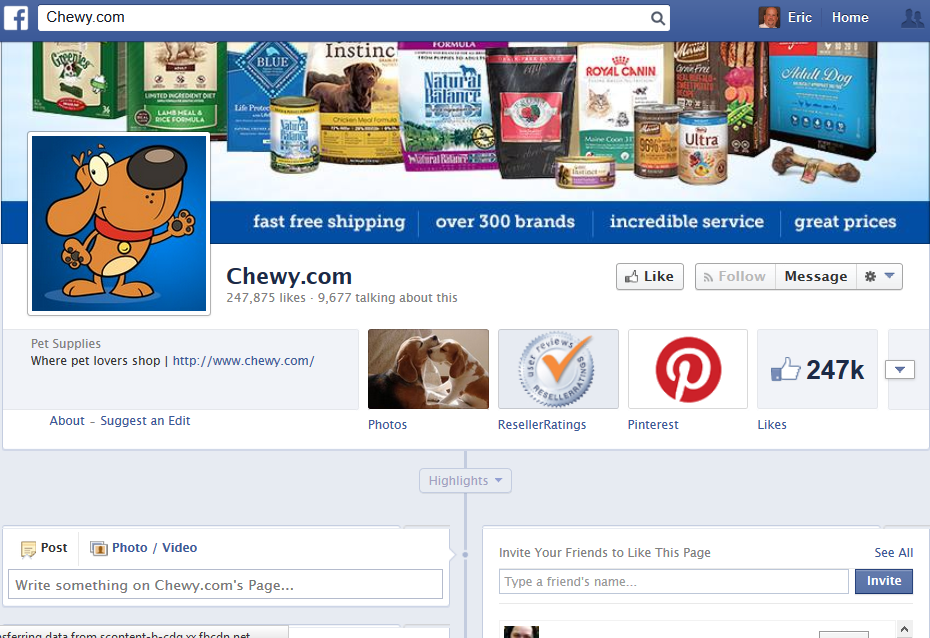 By comparison, Mercola, which runs Healthy Pets doesn't seem to have any Facebook presence, at least none that I could find. On their home page, it appears that they've gotten a relatively modest number of likes, 1,688 for the page we found in our initial search. Thus this is likely not a good candidate for stealing social media followers from.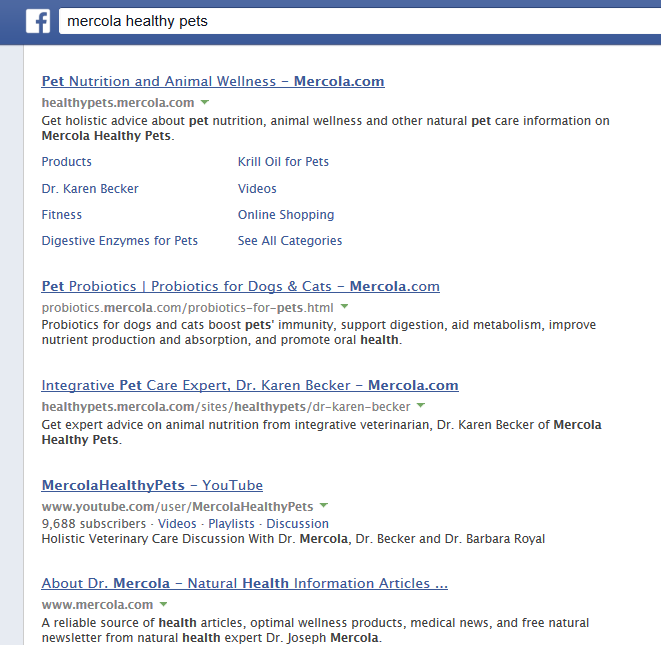 2.     Check Their Facebook Pages
Now of course, even once we have actually found out whether or not a particular company has a strong social media presence, the next thing to do is to check how active their followers actually are. It's entirely possible that they have a lot of robots following their tweets on Twitter and likely them on Facebook because at one point or another, someone was trying to grow them in any way they could.
One of the best ways to check them out is with a tool called Fanpage Karma. Basically, this site will let you enter any Facebook page and find out just how active it has actually been in the past few months. As we can see, even though Chewy appears to have a pretty active Facebook page with over 247,000 followers, it's actually got a pretty modest Karma rating of just 2.2.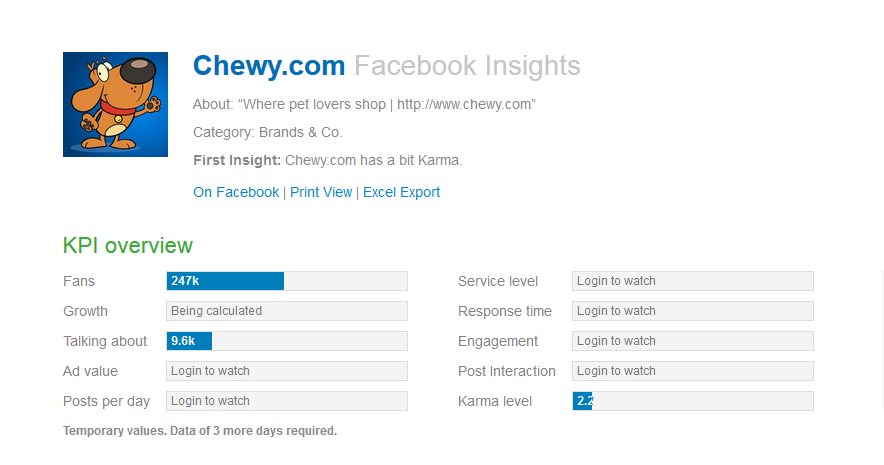 They also have just .6 posts per day which means the page is active but not super hopping with raving fans who constantly drop by and visit the place. Out of 247,000 fans, they rank just 9,600 talking about them in the recent past…
Overall, I'd say that Chewy is a mixed bag. In a business area like buying pet food, it's likely worth trying to poach some of their followers anyway but it's not like it's going to be the very best choice available from a Facebook perspective.
3.     Check Out Twitter Next
The next step is to check out the Twitter feed of the company in question and to see just how active that happens to be. Generally, if you found that the Facebook page was active, they'll also have a pretty active Twitter account. However, it's not always a given that this will be the case so do check both of them.
In the case of Chewy.com for example, their Twitter following is much, much smaller than the following they have on Facebook with just 2,836 followers (and they are following over 1,900 people which means they're still working actively to build their following):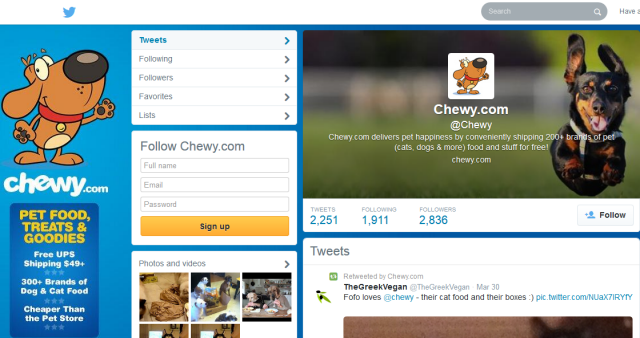 Now while we can get some basic information by simply checking the Twitter feed, which is public, a better way to check out the competition is to go granular and get to all the nitty gritty details of exactly what it is that the company has going on. One of the best ways to do this is to check the site in question on a website called Twitonomy.
The basic service will provide you with a listing of all the recent tweets and other relevant information about the competition. As you can see, they provided me some basic information on Chewy.com:
However, if you want to get much more information, including who their most influential followers are (i.e. the people you want to try to grab for your own list) as well as their most retweeted tweets (i.e. this will show you what your potential customers are most interested in reading about), you need to go for the premium service. This information can be invaluable though as it can help guide you on whom you should target.
Either way, we're ready to start looking at Google + and Pinterest. Then, we'll look into how to grab some of these people for your own network.
4.     Check On Google+
The next step is to check on the Google+ page of your competitors. When we look at Chewy.com's Google+ page, we don't get a whole lot of information. All we can see here is the number of views:
Interesting but not super useful. All we know about them so far is that they've managed to garner nearly 60,000 views at one time or another since their page was launched on G+. However, I did find a different service which provides much more details analytics of Google+ pages. Simply Measured can tell us much more about the competition's social media efforts: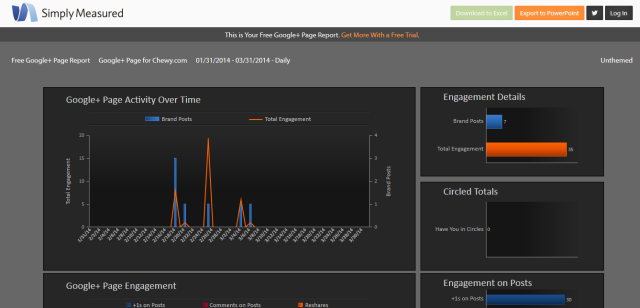 It looks like over the past few weeks, Chewy.com made a few reasonable efforts at engagement but then ignored their page completely, without a single hit going up. This tells us that their G+ followers may be looking for someone else to follow in addition to them in order to get more information about pet food (of course, it could also mean that pet food doesn't really get people excited but that's another story).
5.     Check on Pinterest
Finally, let's take a look at how the competition is doing over on Pinterest. On Pinterest, Chewy.com seems to be doing quite well. That's to be expected though given that they do sell pet food and Pinterest is the sort of social network which lends itself to that kind of sharing (after all, half the Internet seems to be memes with dogs and cats these days).

They have a respectable number of followers and they seem to be doing pretty well. However, if you'd like to know more about how they're doing, you can use a free service at a company called Tailwinds which does some additional analyzing for you. It's really intended to help with your own Pinterest page, but I found that it does provide some good analytics for any page and as I said, it's free: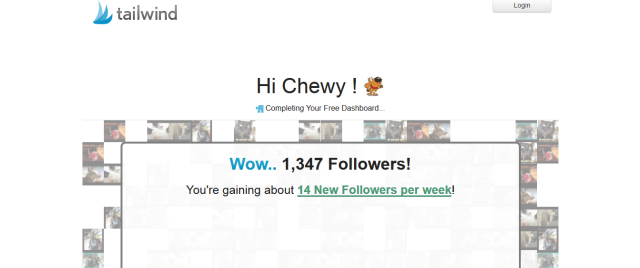 6.     Grab Your Competitor's Facebook Followers
Okay, enough research. Time for action. The first thing you need to do is go back to our results which we found in step 2 on Facebook. You'll want to hunt down the most active Facebook users of your competitor's page. Thanks to the analytics we received from FanPage Karma, we can actually find out who the most influential people are as well as those who use the page the most.
Armed with this information, it's time to start going after them. Click on their public profiles and see what other pages they follow. Be sure to try to be as helpful as possible whenever these people post questions. The more often they see you elsewhere, the more likely they are to check you out and want to know what it is that you have to offer.
The key here as with anything involving social media is that you want to ensure that you don't come off sounding like a corporate hack who is just interested in making another sale to them. Instead, you want to be yourself (obviously use your personal account, not a corporate account) and simply answer questions as a fellow human being.
Ultimately, you'll find that the people you help on Facebook are more likely to check you out and offer to friend you as well as like your page and follow whatever it is that you post there. The best part of course is that you are sharing a follower rather than actually taking away from someone else (of course, your goal is to get them to shift some of their purchases to you but that's another story entirely).
7.     Go After the Twitter Fan Base
Okay, now that you've gone and grabbed some followers on Facebook, it's time to do the same thing on Twitter. Fortunately, grabbing those Twitter followers is just as easy as grabbing the Facebook followers. As I've said on numerous occasions, the key to making it big on the social networks is to be friendly and a real person who is really helpful.
Using the information we identified in step 3, we can see who the biggest influencers are who follow the competition's Twitter feed. These people are also likely to be posting a whole bunch of questions on Twitter – questions which anyone can answer. So jump in and start being helpful. Be sure to come off sounding genuine though or you'll blow it.
Another thing you may want to do is to selectively follow the same people that follow your competition. Even today, when you follow someone on Twitter, they'll often follow you back, allowing you to build your Twitter base.
Finally, look into following some of the hashtags that your competition is using to attract their own followers. These things likely work because if they didn't, the competition wouldn't be using them. You can both post your own comments using those same hashtags and you can follow the trends with them in order to answer questions and gain followers organically.
8.     Get the Google+ People On Board
The first thing you need to do in order to grab some of the competition's followers is to install a plugin for Chrome or Firefox (sorry, it's not available for IE or Opera) called CircleCount. This plugin will allow you to immediately check out who the most influential G+ people are who shared a post on their own circles.
Go back to your competitor's Google+ page and start using the same service to find out about the posts that they wrote which got shared. You can use it by clicking "see ripples for this post."
You'll instantly know whom you should be targeting with the same kind of personal service that we offered in Twitter and Facebook. The same kind of personal answering of questions and attention to your customer's needs is the kind of thing that will get you noticed by them and get them to follow you here as well.
9.     Don't Forget Pinterest
Pinterest is a bit different than the other social networks because it tends to be less about asking questions and more about sharing images. However that doesn't mean that you can't steal some of your competitor's Pinterest followers as well. The first thing to do is to start following the feeds of people who follow your competitors. Just as with Twitter, it's quite common for people to follow you back.
Now however, what you want to do is to create more of the same of the kinds of stuff that the competition uses for their own feeds. So for example, with Chewy.com, that would mean adding in many more animal memes with witty captions which the same people are likely to be interested in.
10.Sell Stuff to Your New Customers
Finally, while it's all well and good to be grabbing some customers from the competition, it's also important to actually do something with your newfound followers on the social networks. This means that you need to start selling them your own products. Do this casually and slowly rather than engaging in a hard sell.
Be sure to have a link to your own website where your products are sold available on your own Twitter/Facebook/G+/Pinterest pages so that people will know where to find you and consider as well occasionally offering a discount coupon to the people who are following you. This will allow you to gain some new customers who wouldn't have otherwise considered you or likely even known about you since they first found you via the social networks.
Bonus – Other Ideas
Okay, so there you have the 10 steps to success in finding new customers for your business using the social networks. However, there are a few other ways to grab new customers including new followers on the social networks:
Network – The fact is that a guy who sells dog food in Portland, OR is unlikely to be the competition for you if your pet food store is located in Boston, MA. However, that doesn't mean that you can't share valuable insights with each other. So network with owners of similar and ancillary businesses. Even those who are direct competition may well be willing to network with you because they sometime have too many customers to handle.
Do a JV
Consider a joint venture with your competition and especially with ancillary companies as well if you would like to ensure that you are getting the maximum number of new followers and as a consequence, customers. This works especially well when you work with people who are ancillary rather than direct competition for you.
Guest Blog
Finally, consider some guest blogging opportunities, including the opportunity to share some guest materials on the competition's Facebook page. Often, they'll welcome you with open arms and this can in turn lead to additional followers for your own social media campaign. Of course, you do need to ensure that your guest blog is actually a very high quality piece of writing which will attract more people to you as well…